Money-Saving Coupons & Specials for Our Services
Call 970-399-7063 today for trustworthy heating, cooling, and plumbing service in Grand Junction, CO courtesy of Peterson Plumbing, Heating, and Cooling. Keep reading to browse through our current online coupons and specials.
---

Check back for seasonally relevant deals for your home's plumbing, heating & cooling systems!
---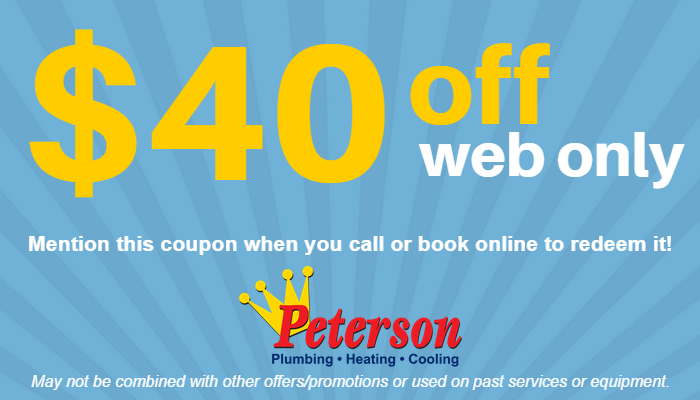 See what our satisfied customers have to say about our workmanship and low prices by visiting our reviews page before picking up the phone.
Why Do We Offer Special Discounts and Coupons?
While owning a home is a rewarding experience, it can often come with a variety of unforeseen stress, such as issues with your heating and cooling system, or with your plumbing. Too often, these issues feel like they happen when we are the least emotionally and financially prepared to handle them, causing even more stress and anxiety.
At Peterson Plumbing, Heating, and Cooling, we've made the choice to offer special discounts on our services in Grand Junction, CO, and surrounding communities, because we believe that our customers should never have to choose between getting the best possible repair and installation services, and dipping into their savings. This way we can say confidently to every customer that we offer the most competitive rates in the state, and that they can still rely on receiving the highest level of service around.
Save When You Work With Us
Whether you need help unclogging a toilet, installing an evaporator coil, or repairing your furnace, depend on us for the best service in Grand Junction, always at competitive and fair prices.
Save on your next service appointment with our team and get the kind of heating, cooling, and plumbing service you deserve by calling 970-399-7063 today.
---
Redeem your coupon today!
---