Trusted Plumbing Repairs & Installation Services
Are you looking for a dependable plumber in Grand Junction, CO? You are in the right place! Peterson Plumbing, Heating, and Cooling works with your best interests in mind. Call today at 970-399-7063 to achieve the peace of mind you deserve!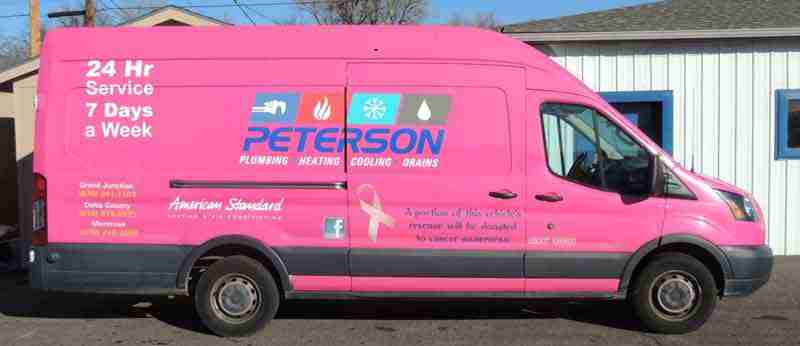 Since 1981, Peterson has provided friendly and expert residential plumbing services throughout Grand Junction and Western Colorado. Plumbing is where we got our start and remains an integral part of how we serve our community. No matter the size of the plumbing project, Peterson is ready and excited to help you!

Boiler Repairs
Comfortable, quiet and clean, boilers provide an energy-efficient source of heat and hot water.  Boilers are an integral part of how many homes in Mesa, Delta and Montrose County stay cool as well. The use of evaporative coolers mean that it is doubly important to maintain your home's boiler. Read More
Drains, Sewers & Septic Systems
Our team of plumbers at Peterson are drain specialists! We have the equipment and expertise necessary for any drain or sewer job. Are you worried about your yard being destroyed during the project? We are one of the few companies in Colorado to employ "trenchless" drain technology. This means your precious landscaping remains safe! Read More
Water Heaters
If you constantly find yourself running out of hot water, Peterson is here to help! Our plumbers are certified to service any make or model of water heater. We'll get your system cranking out hot water efficiently again in no time! If you need a new system, we can help you find the best new water heater for your home and budget. Read More
Tankless Water Heaters
For many homeowners, especially those with limited space, a tankless water heater is a great choice. Never run out of hot water again, and enjoy a water heater that is so small, it literally hangs on the wall! We can service and install any make or model of tankless water heater, but we prefer Rinnai. Read More
Leak Repair & Repiping
There is no such thing as a good leak. If you need a leak repaired or pipes replaced, Peterson is here to help you 24/7/365! We can help you with faucets, sinks, showers, and toilets as well. No matter where you live (Grand Junction, Delta, Montrose, or anywhere in between) we are available for you! We'll get your pipes repaired or replace quickly and efficiently – we guarantee it. Read More
Water Conditioning
Not all water is created equal in Colorado! As anyone with a well will attest to, there can be some hard water in Mesa, Delta, and Montrose Counties. Peterson's certified plumbers will test your water and provide you with options for making it safer and healthier for your family. Clean and clear water is more affordable than you may think… Read More
---
Do you need plumbing help now? We know the unique plumbing needs of Grand Junction residents. Call us today at 970-399-7063 for the most complete plumbing solutions in the area.
---