Grand Junction Drain Cleaning & Sewer Repairs
Don't let a clogged drain or broken sewer line stress you out any further! Get the fast solution you need with a call to Peterson Plumbing, Heating, and Cooling at 970-399-7063. We are proud to offer high-quality drain cleaning and sewer repairs throughout Grand Junction, CO.  Service Areas
Clogged drains are a real hassle, but Peterson's drain specialists are here to help!  Using the latest in drain clearing technology, we can get your life back to normal in no time.  Before we carry out any work, we will first assess the situation and give you our step-by-step plan. Then, we will remove the clog – and the hassle.
We know that drains only clog at inconvenient times! We also know that drains can clog due to accidents. Whether your kids dropped the phone in, or uncle Ted tried to flush two rolls down – we've got it.
It doesn't matter how it happened, we can handle any drain problem.
We use specialized cameras that we send down the line to actually see what the problem is.  We don't guess.  We don't dig blindly.  And no, you don't have to see what we find if you don't want to!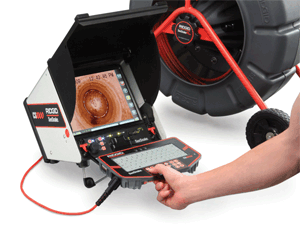 Trenchless sewer repair technology
To better serve our clients, we invest in two things:  our capabilities and our tools.  We are one of the few plumbing companies in Colorado to own and operate "trenchless" technology.
One of the most inconvenient aspects of drain repair has always been the digging up of the yard. It is messy and creates more work for you afterwards.  What's more, once you get a landscaper involved, it becomes quite costly.
We have eliminated that hassle and extra cost.  Using the latest in sewer technology, we can actually replace your whole drain line with minimal invasion.  First, using our specialized cameras, we will inspect the line for the problem.  Then, after digging a small hole, we can replace part or all of the damaged line.  Think of it like endoscopic surgery for your home.
Save money – as well as your landscaping, garden, patio and driveway when you choose trenchless sewer repair. The process allows our team to under it all. We know that landscaping can cost a fortune.  Skip the hassle and call Peterson!
Drain Pipe Inspections
Are you suffering from slow draining pipes and recurring clogs?  Though this problem may lie with the fixture itself, we have often found the problem deep in the home's plumbing.
We will find the problem – fast.  Our plumbers all undergo rigorous training to receive their licenses from the state.  We augment that training throughout the year.  In fact, we train every single week. We pride ourselves on efficiency and getting your life back to normal as fast as possible.
---
Is your sewer or drain backed up? We can help! Just give us a call at 970-399-7063 and we will dispatch one of our expert plumbers to your door.
---